Your Four-legged Confidant – Phillipa Stanley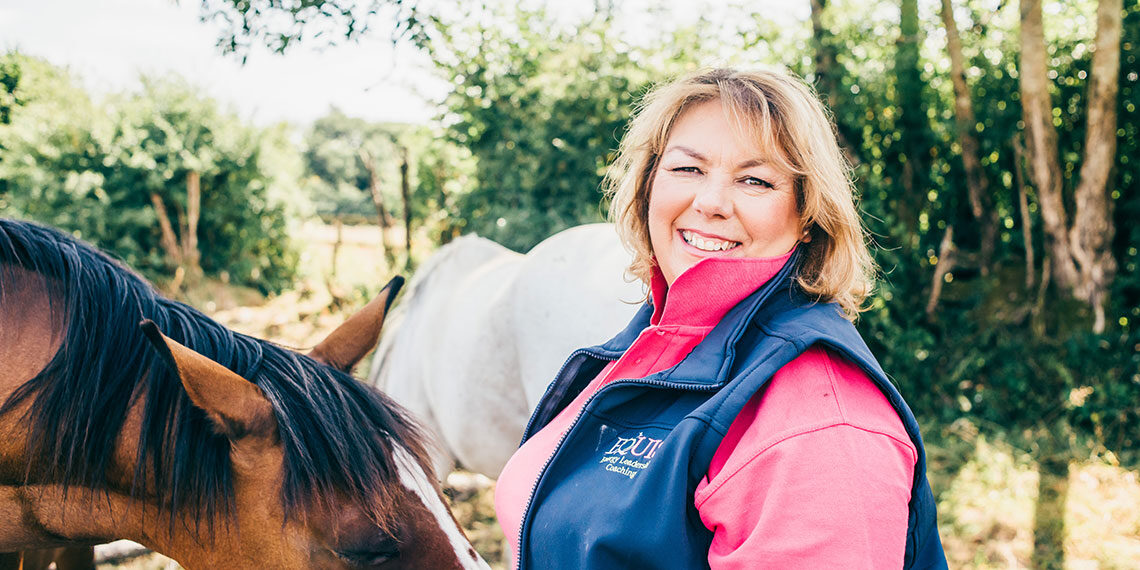 If you've ever owned a horse or been riding as a child, you'll understand that deep connection and sense of having a beautiful strong majestic soul who accepts you for who you are, no matter what.
The fabulous smell of their sweet breath when you are face to face, the soft muzzle that tries to find things in your pockets and just knows when you have a polo mint or piece of carrot for them.
I adored being around horses since I was a child but never really appreciated just how deep their energy was until the breakdown of my marriage almost 10 years ago.
When a painful life change occurs, fear rises in every part of you. The enormity of a relationship ending is just the pebble falling into the water – you don't foresee the ripple effect. And when your soul feels strangled, you also can't appreciate how it's going to feel when you eventually break through and allow change to happen.
During this time, Foxy was my rock, my safe place. She became my confidante and my counsellor.
I told her my woes as we wound our way up the bridle paths, her ears twitching as she listened. The healing, clip clopping sound from her hooves striking the ground as we walked along the lanes was meditation. As we began our heart to heart, I started to feel my shoulders soften and the tension melt from my body. We moved as one and in those moments, were transported to a different dimension. Glancing down with the ground whipping past at an alarming speed, I felt exhilaration but somehow safe, knowing that we are truly connected.
10 years on and I'm living my dream as I work alongside my fabulous steadfast horses in West Wales and coach others to find their inner strength, plus train coaches to enhance their service offering.
How energetic connection can guide life choices and self-development
Horses reflect the true us. They mirror our deepest feelings and connect into that.
Equine coaching doesn't involve riding or the need for prior experience – it's about allowing yourself to be vulnerable in the presence of horses and tapping into an energetic connection that only you will feel. They connect powerfully to that innermost part of you to show you who you really are and who you truly want to be.
For instance, you may be feeling overwhelmed as a working parent, who continually gives until there's nothing left in your reserves. You may feel you are losing your identity as an individual and colleague, your confidence may have dropped and the way you go about your daily routine is more robotic than present.
Coaching with horses provides a safe space to reflect on your personal scenario and the emotional baggage that comes with it. The horses offer their ear and specific exercises with them are powerful enough to help you work through the healing process.
They help with choices too. If you are trying to  progress your career and you are equally excited about two options or you have a life or business decision to make, coaching around the horses elicits different energies from you around these choices.  The horses sense these and will guide you to make a heartfelt decision, based on what your inner self truly wants.
Life changing results
Any coach will agree that seeing transformation in their clients is the most rewarding part of our work. A client navigating through divorce said,
"Coaching with horses helped me to understand the extent which I was lost in my own thought processes and allowed me to embark on a new avenue of self-awareness and self-fulfilment.  I'll never forget my time with Inky and Foxy – their silent teachings of stillness, forgiveness and unaltered truth were unlike anything I have ever experienced before"
Foxy and Inky also helped a client rediscover her business skills after some time away from the corporate arena,
"Philippa and her beautiful horses helped me identify obstacles subconsciously restricting my performance and to reinvigorate my confidence and assertiveness I knew were hiding somewhere! As someone with no prior experience of horses, being surrounded by nature and guided by a professional coach was a unique and effective way to develop my skills."
If you are seeking clarity or want to fulfil your unlived dreams, horses led by a professional coach can help you work out what is in your heart, and support you with your way forward, whatever that looks like for you.
Philippa Stanley is a PCC ICF certified energy leadership life and executive coach sharing the power of energetic connection with heart centred individuals and professionals, both remotely and from her farm in South Wales. She specialises in horse assisted learning and with an extensive background in environmental management, her services are complemented by a unique blend of business acumen and sustainable living expertise for those interested in finding a deeper connection to themselves and the natural environment. She also trains coaches and mentors to enhance their service offering using horses as co-facilitators.