The Directory
Discover coaches and professionals who can help you get ahead in business and life.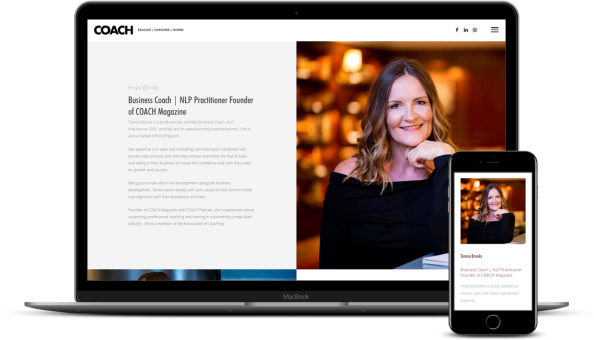 Why list in COACH Directory?
With an ever-increasing pool of coaches to choose from in a currently unregulated industry, COACH Directory is a dedicated resource to helping to connect coaches with clients
Be seen by an engaged readership and reach potential clients globally
Get your listing and business spotlighted through our social platforms
Be found as a trained professional and expert
COACH directory offers skills and experience in different niches from a variety of coaches mentors consultants and therapists.
All coaches who list in the coach directory are qualified and professionally trained.
Included in your COACH listing
Your professional headshot, Name, Title and 2 lines of description about what you do and who for.
Professional headshot
Name title and description
Full page of additional content
3 extra photos
Unlimited links to your website, socials, programmes, courses, opt ins, podcasts and groups.
BOOK NOW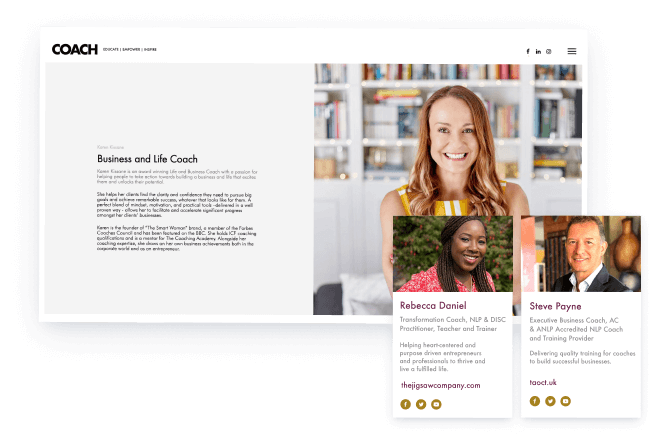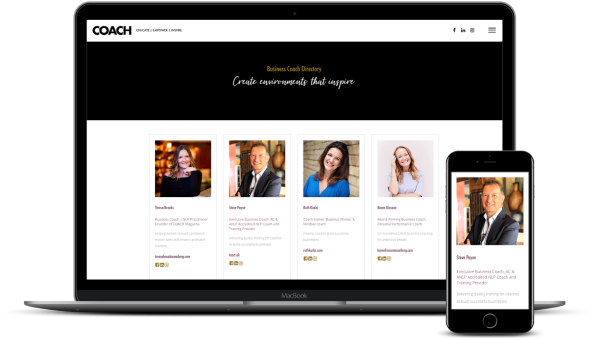 Get started by choosing your category:
Business Coaches

Life Coaches

Health & Wellbeing Coaches


Mentors & Consultants

Therapists & Counsellors
It's easy to list – just follow the online link to book and pay, then continue to upload your images & content.
BOOK NOW
"I'm so glad I absolutely use my intuition to make decisions! On the back of me being in the COACH Directory and people seeing it in my profile, I've been offered 2 speaking slots and have new discovery calls lined up! Thank you!"

Louise Fernando

Empowerment Coach
"I am so proud to have been featured and listed in COACH. I work with all types of people and I understand how coaching is life-changing. This is a positive and collaborative magazine and resource."

Beth Hope

Executive Confidence Coach
"Being listed in a professional Directory is a great resource for me to be found online as a coach and for a year, it's excellent value too. I love what COACH offers and how it supports professional coaching so I'm very happy to be listed here."

Evelyn Kaluza

Executive Wellness Coach
"Having trained coaches in one place offers a trusted platform of listings. When people are sourcing a coach, they often don't know where to start so this is a fantastic positioning and an excellent platform full of fascinating content."

Steve Payne

Public Speaking Coach & Master NLP Trainer
Want to list your business in COACH?
Sign up now to be featured.